Basic ImbaChat functions
Nowadays, it is impossible to imagine any website without the ability to interact with it in some way. All online relationships are built on interaction, from shopping in an online store to discussing common interests in a web forum. An easy-to-use chat window can serve as a tool for such interaction. After all, online chat is a convenient and fast way of communication that helps save time and simplifies communication between users. Our company provides services for creating and integrating chat windows onto websites to provide the best user interaction experience. Use our services and improve communication on your website today!
ImbaChat chat plugin features:
1. Group chats
In today's digital age, effective communication with clients and users is paramount. You need to be constantly available to answer their questions, address their concerns, and provide support whenever they need it. One of the best ways to achieve this is through group chats.
With ImbaChat's group chat feature, you can empower your users to create chat rooms and discuss common interests or problems in real-time. Whether you want to foster a community around your brand or provide a space for users to collaborate and engage with each other, group chats are an excellent solution.
Our platform offers a basic function that allows you to add an unlimited number of users to a chat room simultaneously. This feature is available in our free Basic tariff plan, providing you with a cost-effective way to incorporate group chat into your website. With ImbaChat, you can enjoy seamless and hassle-free group chats that enhance user engagement and satisfaction.
By leveraging our group chat capabilities, you can build strong relationships with your clients, enhance their user experience, and promote brand loyalty. Don't miss out on this opportunity to take your website to the next level. Try ImbaChat's Basic tariff plan and enable your users to connect and collaborate today! How to use group chat functions.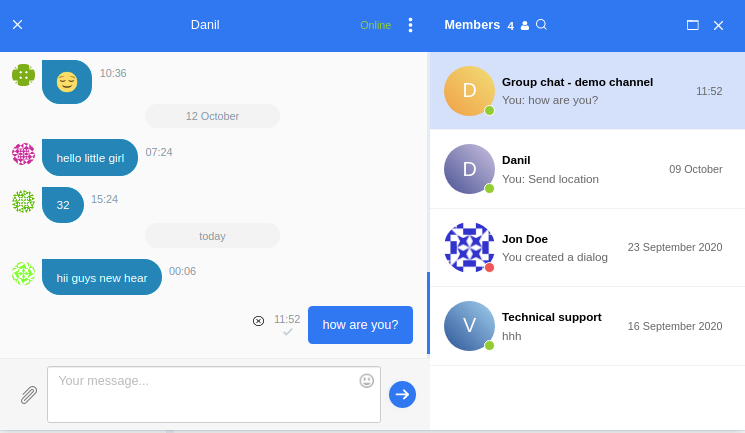 2. Private chats
In today's digital world, communication is the cornerstone of successful relationships on dating sites, social networks, and marketplaces. With ImbaChat, you can enjoy a one-on-one communication function that allows you to start a dialogue with any user, providing you with an opportunity to foster deeper connections and build meaningful relationships.
Our platform offers an intuitive and user-friendly interface that makes it easy to initiate a conversation with other users. You can also customize the chat experience by adding emoticons, attachments, and other multimedia elements that enhance the user experience.
Whether you're looking to facilitate private conversations between buyers and sellers on your marketplace or encourage users to connect on your dating site or social network, ImbaChat's one-on-one communication feature is the perfect solution.
And the best part? This feature is available in our free Basic tariff plan, so you can incorporate it into your website without any additional costs.
So, what are you waiting for? Sign up for ImbaChat today and take advantage of our one-on-one communication function to enhance user engagement, boost customer satisfaction, and drive brand loyalty.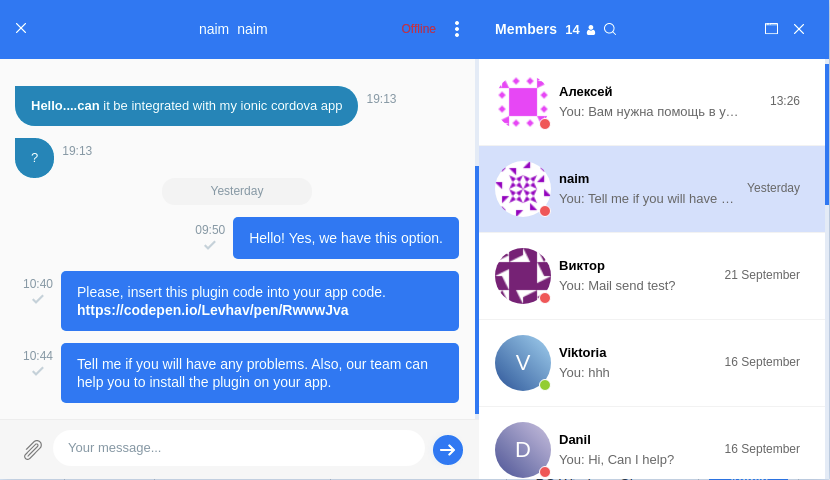 3. Online support feature
When it comes to providing efficient and convenient customer support, nothing beats online chat. With ImbaChat's online consultant function, you can connect with your clients in real-time, addressing their concerns and queries without them ever having to leave your website. This makes for a seamless and hassle-free customer experience that will boost user satisfaction and promote brand loyalty.
Our platform allows you to create an unlimited number of support manager's accounts, empowering your support team to handle multiple customer chats at once. This means that you can scale your customer support operations as your business grows, without worrying about additional costs or logistics.
Online chat is one of the most effective ways to connect with your clients, build lasting relationships, and promote your brand. By leveraging ImbaChat's online consultant function, you can provide your clients with timely and personalized support that meets their needs and exceeds their expectations. Try our platform today and see the difference it can make for your business.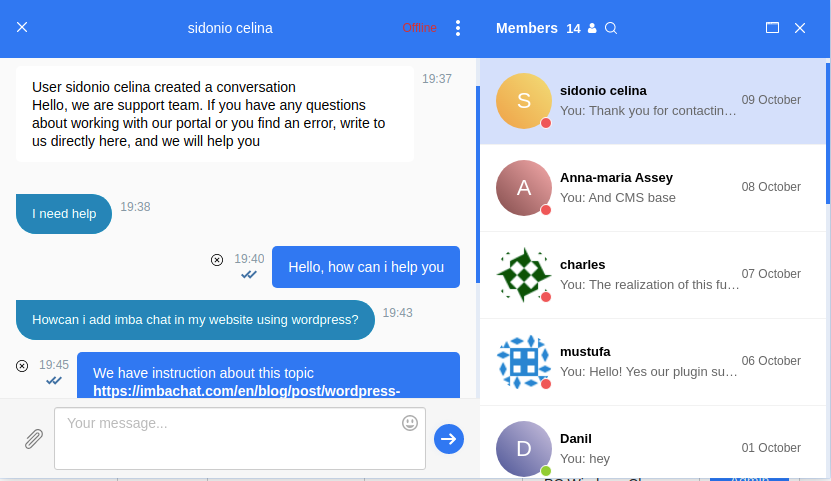 4. Chat moderation
This feature is a must-have for websites that want to maintain a clean and organized chat environment. ImbaChat's message and user moderation functions make it easy to remove spam and unwanted users from your group chats. With just a few clicks, you can select and delete specific messages or even ban users from the conversation.
The moderation feature is available in version 2.3.2 and can be accessed through the admin panel. Once updated, authorized users with WP administrator privileges will have access to icons next to each message. By clicking on the icon, a window will appear where they can select the reason for the ban and the duration of the ban.
Don't let spam and unwanted messages ruin the chat experience for your users. ImbaChat's moderation function is a powerful tool that helps you maintain a healthy chat environment. Try it out today and see the difference it can make in enhancing user engagement and satisfaction.
5. Delete messages
ImbaChat's chat feature offers users the ability to easily manage their own messages. With just a simple click of a button, users can quickly and easily delete their own messages if they made a mistake or for any other reason. This feature provides users with greater control over their own content and ensures that conversations remain accurate and relevant.
Moreover, the chat administrator also has the ability to delete messages, providing an added layer of control and oversight. This can help to prevent spam or inappropriate messages from being displayed and ensure that conversations remain on-topic and productive.
ImbaChat's intuitive delete interface is user-friendly and easy to navigate, with a clear and simple cross button located next to each message. This makes it easy for users to quickly identify and remove any messages they no longer wish to keep, without disrupting the flow of the conversation.
With ImbaChat's chat feature, users can enjoy seamless communication and collaboration with others, without the hassle of having to worry about mistakes or unwanted messages. This powerful tool is available in our Basic tariff plan and can be easily integrated into your website to enhance user engagement and satisfaction.
6. File sharing
Share any type of files: pictures, audio, video, documents and even geolocations! Such file types as .doc, .xlxs, .png, .jpg, .mp3, .mp4, .gif and others are available for uploading and downloading from the chat. Embedded file sharing interface is easy-ti use. Users can download these files by one click.
7. Gravatar
ImbaChat makes it easy for you to use Gravatar on your website or application. With Gravatar support, your users' globally recognized avatars can be pulled from Gravatar servers and displayed in your chat application. Gravatar is a popular feature used by millions of people and websites, and it is supported by most popular applications like WordPress. By incorporating Gravatar support into your chat application with ImbaChat, you can enhance the user experience and make it easy for users to display their avatar in the chat. This feature is available in our Basic tariff plan, providing you with a cost-effective way to incorporate Gravatar into your website. Don't miss out on the opportunity to improve user engagement and satisfaction. Try ImbaChat's Basic tariff plan today and enable Gravatar support on your website or application! Keywords: Gravatar, globally recognized avatar, user experience, user engagement, Basic tariff plan.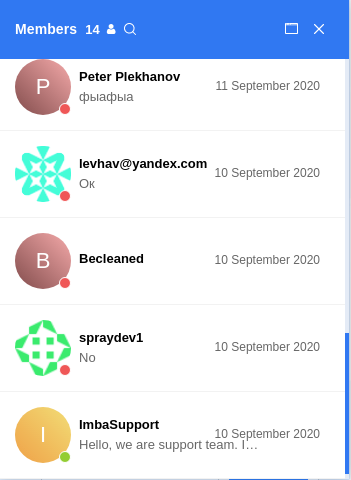 8. Video and voice messages
ImbaChat offers voice and video messaging features to facilitate easy communication between users. With the option to send voice messages, users can quickly express themselves without having to type long texts. This feature is especially useful for those who want to communicate on the go or when they are unable to type. The ability to send video messages adds an extra dimension to communication, allowing users to express themselves visually. These features are available on ImbaChat's platform, providing a seamless and convenient way for users to communicate. Don't let long texts hold you back, try ImbaChat's voice and video messaging features today!
9. Chat Embedding
ImbaChat now provides the ability to embed a chat directly into your website window, allowing your visitors to engage with your support team or community without the need for a separate application or window. This feature offers numerous benefits, including increased customer engagement and streamlined communication. By integrating ImbaChat's embeddable chat, you can create a more seamless and user-friendly experience for your website visitors. Plus, with ImbaChat's extensive customization options, you can tailor the chat to match your website's branding and design. Contact us today to learn more about this powerful feature and how it can benefit your business. here.
10. Presence indicator
ImbaChat allows users to see who is currently online and available for chat. This feature helps to establish real-time communication with other users and makes it easy to connect with them. With ImbaChat, users can also see when other users were last active, which is useful for knowing when someone might be available to respond to messages. Knowing who is online can help users to quickly connect with others and improve the overall communication experience on a website or app. Try ImbaChat today and discover how easy it is to stay connected with others in real-time!
11. Language and style customization
ImbaChat is a versatile plugin that offers customization in various ways. One such feature is the language customization function. While the plugin comes with pre-installed interface languages such as Russian, English, and Italian, you can now translate the interface phrases into any language of your choice. With ImbaChat, you can provide a seamless chat experience for your users in their preferred language. This feature helps to break language barriers and create a more inclusive environment for your community. So, if you are looking to expand your reach and cater to a wider audience, ImbaChat is the perfect solution for you. Get started today and see the difference it can make for your website or application!
12. Search for dialogue
With the convenient search bar feature on ImbaChat, users can easily find any dialog they need in their dialog list. Whether you have a long list of conversations or need to quickly find a specific chat, the search bar function can save you time and hassle. This feature is designed to be user-friendly and efficient, allowing for fast and easy navigation throughout your chats. Try out the ImbaChat search bar feature today and streamline your chat experience.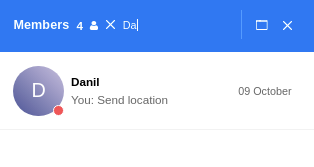 13. Emoji
With ImbaChat, expressing your emotions has never been easier! Our chat application offers a full range of emoji options to choose from, so you can find the perfect one to match your mood. Whether you're happy, sad, excited, or anything in between, we've got you covered with our extensive collection of emoticons. From classic smiley faces to trendy icons, you'll never run out of ways to share your feelings with others. Plus, our emoji library is constantly growing, so you can be sure you'll always have access to the latest and greatest options. Start sharing your emotions today with ImbaChat!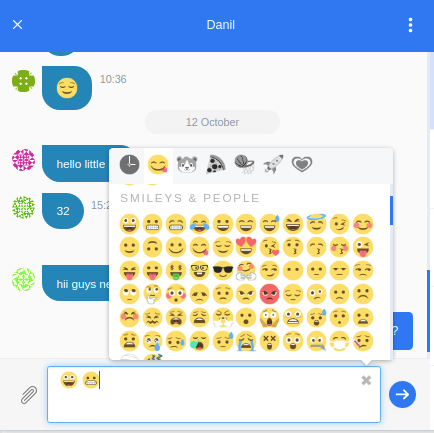 14. Unified authorization of users in the chat and on the website
ImbaChat offers a unified authorization system for users, allowing for seamless integration with your website's user base. With this feature, users can log in to the chat and the website with a single authorization mechanism, eliminating the need to sign up twice. This provides a more streamlined and convenient user experience. Say goodbye to the hassle of managing multiple user accounts and embrace the simplicity of ImbaChat's integrated authorization system. Learn more about this feature and how it can benefit your website and chat community by visiting our blog.
15. Uploading users list to the chat
ImbaChat offers a convenient function of uploading users from the site database to a list of chat conversations. This feature is especially useful for sites with a small number of users (up to 100 accounts). By default, the first 50 users from the database are loaded, but you can set the limit for less or more. With this function, starting a dialogue with a user becomes faster and more convenient. Additionally, the search function by username applies to uploaded users in the list, making it easier to find specific users.
It's important to note that for websites with a larger user base, you can set the limit above 50, but there may be a delay in loading time. With full integration and a single authorization mechanism in the chat and on the website, ImbaChat provides unified authorization of users. This means that users don't need to sign up twice, and there's full integration with the user base of your website.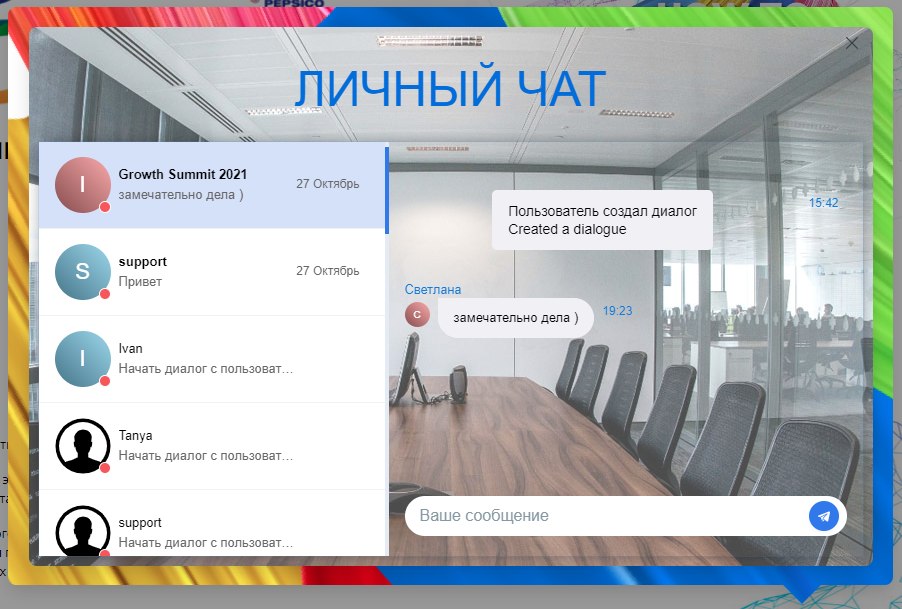 16. Caching
ImbaChat offers a powerful caching feature to optimize chat performance. By caching user information, the chat loads faster and your server experiences lower load. You can select the caching time that best suits your needs, from 1 day to 1 week or more. The longer the caching time, the less frequently user data is updated. However, if you need more frequent updates, choose a shorter caching time. With ImbaChat's caching feature, you can achieve both speed and accuracy in your chat system. Optimize your chat performance today.
You can configure it in the Dashboard --> Chat settings --> Cache settings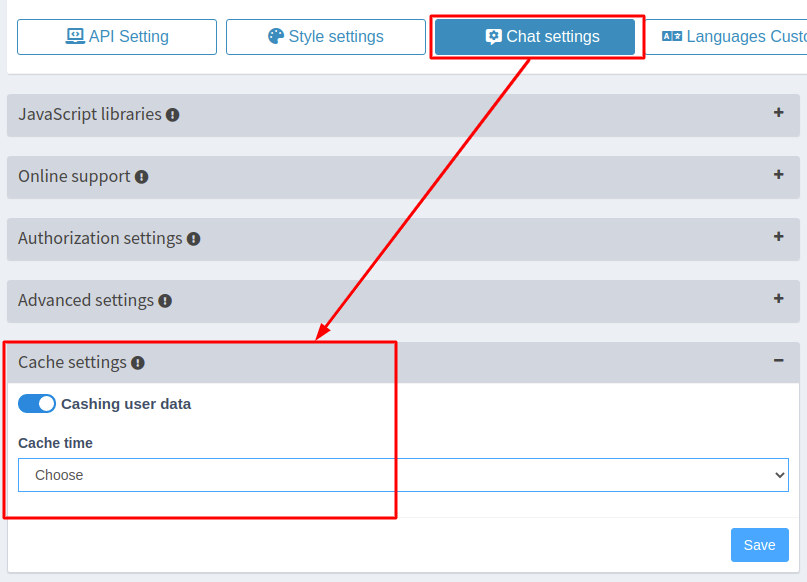 17. Email-notification
ImbaChat plugin has a convenient feature that groups messages by type (read and unread) instead of sending standard notifications for each new message. This means that users will not receive notifications for messages they have already read. Additionally, notifications will not be sent if the user has been online in the last 10 minutes or has a tab open with the site. This helps to reduce notification overload and ensures that users only receive relevant notifications.
To further enhance user experience, the ImbaChat plugin also offers customization options for notification settings. Users can choose to receive notifications for specific types of messages or can turn off notifications altogether. This flexibility ensures that users can stay connected with their conversations while maintaining control over their notifications.
The ImbaChat plugin is also designed to be fast and reliable. With advanced caching technology, chat data is stored locally, ensuring that the chat loads quickly and efficiently. And with the option to customize caching settings, users can balance chat speed with the frequency of data updates.
Overall, the ImbaChat plugin provides a comprehensive set of features for enhancing online communication. From language customization to user authorization and chat caching, ImbaChat has everything you need to create a seamless and engaging chat experience for your users. Try ImbaChat today and take your online communication to the next level!
18. Screensharing feature
ImbaChat introduces a new feature - Screensharing - which allows users to share their screens during video chats. This feature is a game-changer for those who want to share their work or presentations with others during a call. With Screensharing, you can select a specific browser page, window, or share your entire screen. The interface is user-friendly, and you can activate Screensharing with a single click of a button during a video chat session. This feature has proven to be incredibly useful for remote workers and teams collaborating from different locations. Try it out and experience the convenience of sharing your screen during video chats.
Another articles: